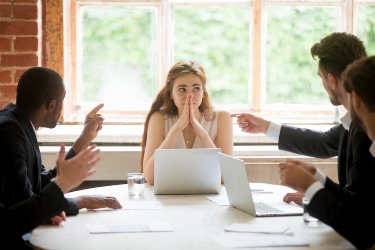 North Carolina and federal statutes outlaw harassment in the workplace and provide remedies for employees suffering in hostile work environments.
But while kindness and civility should be the prevailing culture in every workspace, the law does not prohibit every disrespectful encounter.
So how can you tell when behavior at work has tipped into illegal harassment and hostility? We can show you the signs of a hostile work environment in NC.
EMP Law has a long and successful history of championing employee rights against unlawful employer behaviors. Don't suffer in silence, don't suffer alone. Our experienced employment lawyers are here to fight for your right to a safe working experience.
With offices in Winston-Salem and Charlotte, we assist employees throughout the state of North Carolina.
Give us a call at (336) 724-2828 or send us an online message today for help.
What Are My Rights Against Harassment?
Under federal and NC labor laws, a work environment cannot encourage, ignore, or tolerate unlawful harassment. If a workplace engages in (or improperly addresses or condones) unlawful behavior, you have the right to complain or sue.
Workplace harassment is unwelcome, offensive conduct that your workplace forces you to endure in exchange for continued employment or benefits. A hostile work environment in North Carolina occurs when the unwelcome, offensive conduct is so severe or pervasive that a reasonable person would consider your workplace to be hostile or abusive.
Harassment is unlawful when it is motivated by protected characteristics such as your:
Age (40 and over),
Color,
Disability,
Gender (including gender identity),
Genetic information,
Nationality,
Race,
Religion, or
Sex (including sexual orientation and pregnancy).
Everyone's threshold for what is "offensive," "hostile," or "abusive" is different. Let's review what judges look for when evaluating North Carolina harassment complaints.
What Behaviors Are Considered Criteria for a Hostile Work Environment in North Carolina?
As stated above, harassment is unlawful when it is unwelcome, offensive, and motivated by a protected characteristic. If you are not the victim of quid pro quo sexual harassment (which means your employer makes acceptance of unwanted sexual behavior a condition for receiving employment benefits or continuing employment), you may also show that the harassment created a hostile work environment.
Although an extreme, isolated incident of offensive behavior is sometimes enough to maintain a workplace harassment complaint, you sometimes may need to establish a consistent pattern of offensive conduct from a supervisor, fellow employee, or non-employee over whom your employer had control.
The more instances of offensive behavior you can show, the more likely it is that you are in a hostile work environment. Also, employers who fire or punish employees for complaining about harassment commit unlawful retaliation. If you can show that your employer punished you for objecting to harassment, you might have a strong retaliation complaint on your hands.
The U.S. Equal Employment Opportunity Commission (EEOC) notes that offensive conduct can include:
Inappropriate or prejudiced jokes,
Displays of graphic or offensive images,
Use of slurs,
Intimidation,
Mockery,
Insults, and
Name-calling.
If you are the victim of these or other offensive behaviors, do not immediately worry about how to argue your case.
Your job is to take detailed notes of each offensive encounter, gather relevant documents that prove the conduct, collect witness information, and report the harassment to your employer. When you are ready to take action, particularly if your employer does not, speak to an attorney who can effectively address the unlawful harassment through an administrative complaint or legal action.
Filing a Harassment Complaint
If you are the victim of a hostile work environment in NC, you have numerous options for seeking justice. You can:
Your remedies can include back pay, financial damages, job/benefit reinstatement, an order for policy changes, legal fees, and punitive damages.
Contact Our North Carolina Employment Lawyers for Help
Experience, skill, determination, and passion are what you need when you fight an employer who mistreats you. Our attorneys at EMP Law have all of those qualities.
We have over 140 years of experience, and we receive top reviews from our clients. We are here to serve the working people of North Carolina. If you need help, please call us at (336) 724-2828 or contact us online.